Today is the anniversary of Amelia Earhart's Lockheed Electra plane vanishing in the Pacific Ocean. Being an aviation fan (and having taking flying lessons in the past) I am a Earhart fan. While she was not a great pilot, she was a great promoter of aviation and women's flying (plus she even had her own clothing line, wrote articles and books, etc).
A company called Girls Explore http://www.girls-explore.com/ has its own Amelia Earhart doll. It comes with a book and working compass (haha…I guess so that you will never get lost when flying over the Pacific).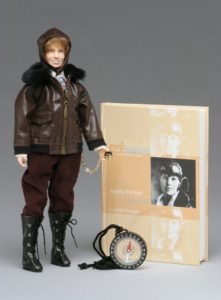 You can also buy a Bess Coleman Doll, Mary Cassatt Doll, Harriet Tubman, etc. They also have posters and books for sale on other women who are positive role models.